Early Aviation Day
September 16

-

September 17
The American Heritage Museum presents World War I and Early Aviation Event Weekend at our museum and airfield in Hudson / Stow, MA!
This weekend we will showcase the original 1917 Nieuport 28 – America's first and oldest fighter aircraft. We aim to fly it each day* for our visitors. We will also pull out the 1909 Curtiss Pusher for an operation exhibition. There will be other organizations bring and display their accurate World War I artifacts, equipment and replica aircraft with original rotary engines.

We will also be bringing some of the original rare WWI uniforms and flight clothing of noted World War I aviators that is part of the Parks Collection that has moved to the American Heritage Museum. Such examples are the original uniform of Douglas Campbell, America's First Ace; and the original leather flight coat of Captain Eddie Rickenbacker.
Gates open at 9:00am and close at 5:00pm each day. Demonstrations and schedules will be firmed up as we get closer to the event.
All three museums will be open: The American Heritage Museum, The Historic Aviation Hangar and Classic Automobile Barn. This is a unique opportunity to see some of the world's most rare aircraft, extraordinary American classic automobiles, historic tanks, armored vehicles, military artifacts and much more.
There is over 100,000 square feet of space within the American Heritage Museum and Hangar combined.
Food and beverage will be available for purchase on site and picnics are allowed.
*Flight demonstrations are fair weather dependent. Flight demonstrations are subject to change.
Daily Schedule:
Below is the schedule as currently planned. All events are subject to change due to weather.
9:00am – 5:00pm – Gates Open – All museum buildings, displays, and encampments open to visitors.
.
9:00am – 5:00pm – Tank Rides & Drives Open (scheduled and walk-up) – Driving Grounds
.
10:00am – 4:00pm – WWI War Gaming & Modelling Demonstrations – American Heritage Museum – Guides will be demonstrating tabletop strategy war gaming and modelling in the American Heritage Museum through the day.
.
11:00am – 12:00pm – "Restoring America's Oldest Fighter" – Nieuport 28 – Aircraft Hangar – Join AHM President Rob Collings and Nieuport 28 Restorer and Pilot Mikael Carlson as they tell the story of this amazing fighter.
.
12:00pm – 12:30pm – World War I Aircraft Flying – Runway Area – Weather Permitting – the Nieuport 28 and the SPAD VII from Old Rhinebeck Aerodrome take part in a brief narrated aerial display. These are the first public flights of the Nieuport.
.
2:00pm – 2:45pm – World War I Armor and Re-Enactor Presentation – Driving Grounds – The M1917 World War I tank from Old Rhinebeck Aerodrome joins our World War I re-enactors for a re-enactment of a trench breach on a WWI battlefield.
.
5:00pm – All museum grounds, buildings, and encampments close for the day.
Click Here for a Map of the Event Grounds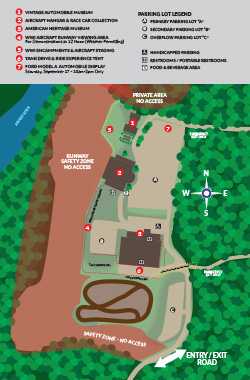 Advance Sale and Event Day Admission Tickets
Admission for the Saturday and Sunday events are as follows:
$25 Adults  |  $20 Seniors/Veterans  |  $15 Children Under 12
Members, WWII/Korean War Veterans and Children Under 3 are Free – No ticket required.
Admission discounts can not be used for special event weekends.
Buy Tickets Online Today!
Tickets for Saturday, September 16th – Click Here to Purchase
Tickets for Sunday, September 17th – Click Here to Purchase
Tickets may also be purchased the day of the event by Credit Card or Cash at the entry gate on the access road as well.
Admission for AHM / CF Members
This is a Members Free Event Weekend:  one (1) free admission per day for Individual and Participating Members, two (2) free admissions per day for Dual Members, and two (2) adult and two (2) child free admissions per day for Family Members. No advance ticket purchase required, just bring your VALID membership card or recent membership receipt to the entry gate for proof. You may buy tickets online or at the gate for any additional people in your party.
Tank Driving Experiences and Tank Rides Available
Tank Driving experiences and Tank Rides will be taking place over the weekend. You can register online, by phone, or on-site, but spaces are limited!
Tank Driving Experience Prices:
– M24 Chaffee Light Tank (20 minutes driving the tank) – $995.00 donation (tax deductible)
– M4 Sherman Medium Tank (20 minutes driving the tank) – $1495.00 donation (tax deductible)
Tank Ride Experience Prices:
– M24 Chaffee (10 minute ride) – $595 per group of Three (3) persons – two in the turret, one in the bow gunner position.
– M4 Sherman (10 minute ride) – $595 per group of Two (2) persons – one in the turret, one in the bow gunner position.
Schedule your tank  driving or ride experience above or call 978-562-9182 to reserve.